That one attire which matches every occasion is a fancy and beautiful saree. The outfit is draped in many different styles and is found in a number of varieties and colours. The trend of wearing sarees in different styles and patterns is increasing the level of beauty day by day. Nowadays ready made sarees and lehenga sarees are also available that gives the wearer a stunning look. Buying your favourite saree is not a big deal nowadays. You can simply search for a beautiful saree online by going through the catalogs of wholesale sarees or else you can also buy them from markets. 
This traditional attire is worn since ages by Indian women. The outfit comes in many different fabrics such as cotton, georgette, chiffon, silk, rayon and many more that give comfort to the wearer. Outfits made from these fabrics are soft and absorbent and they are worn as casual wear. The attire is preferred for each and every type of occasion whether it be pooja, festival, function or any party, this attire is going to give you a fabulous look. 
Pre-stitched beautiful Peach saree:
The pre-stitched sarees are ready to wear one, you just have to tie it around the waist and tuck the pallu at the shoulder and you are ready. This plain saree paired with a heavy and designer blouse having ruffle sleeves and an amazing neckline is a super trendy attire for any occasion. A ready made pleated pallu having a patch work on the shoulder is giving the saree a complete trendy look. The flowing fabric is giving the attire a playful and voluminous appeal.  
A Beautiful Dhoti style saree:
This sky blue dhoti style saree paired with a high neck blouse having short sleeves and some beautiful designs is an amazing outfit that gives you a glamorous look. The neckline and sleeves detailed with black diamonds and some leaves on the blouse is giving it a definitely awesome look. The style is immensely trending among youngsters at weddings and other special occasions. Pairing it with some alluring accessories and a simple hairstyle with light makeup is a perfect upgraded look for occasions and festivals. 
A Stunning Ruffle Saree: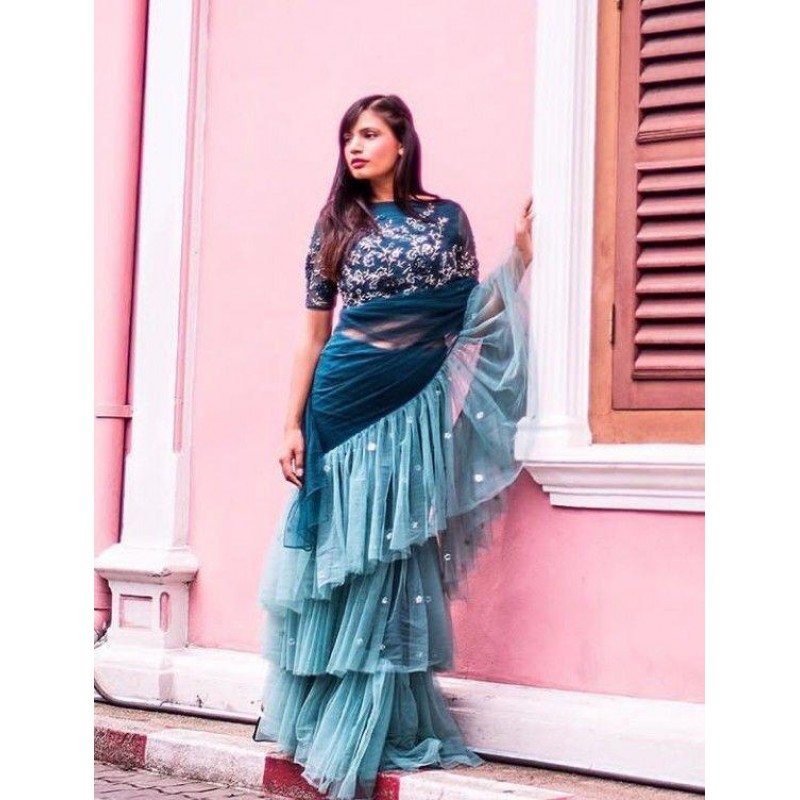 Ruffle sarees are one of the most attractive and beautiful sarees till date. The amazing frill of this saree makes it look just a perfect modern dress. This double colour net ruffle saree with shimmery dots on the frill is giving it a cool and classy look. A beautiful and heavily embroidered boat neck blouse is making a perfect pair with this amazing saree. Wearing this pretty saree at a reception party will undoubtedly make you look the best.
Golden Saree to Shimmer the Occasion: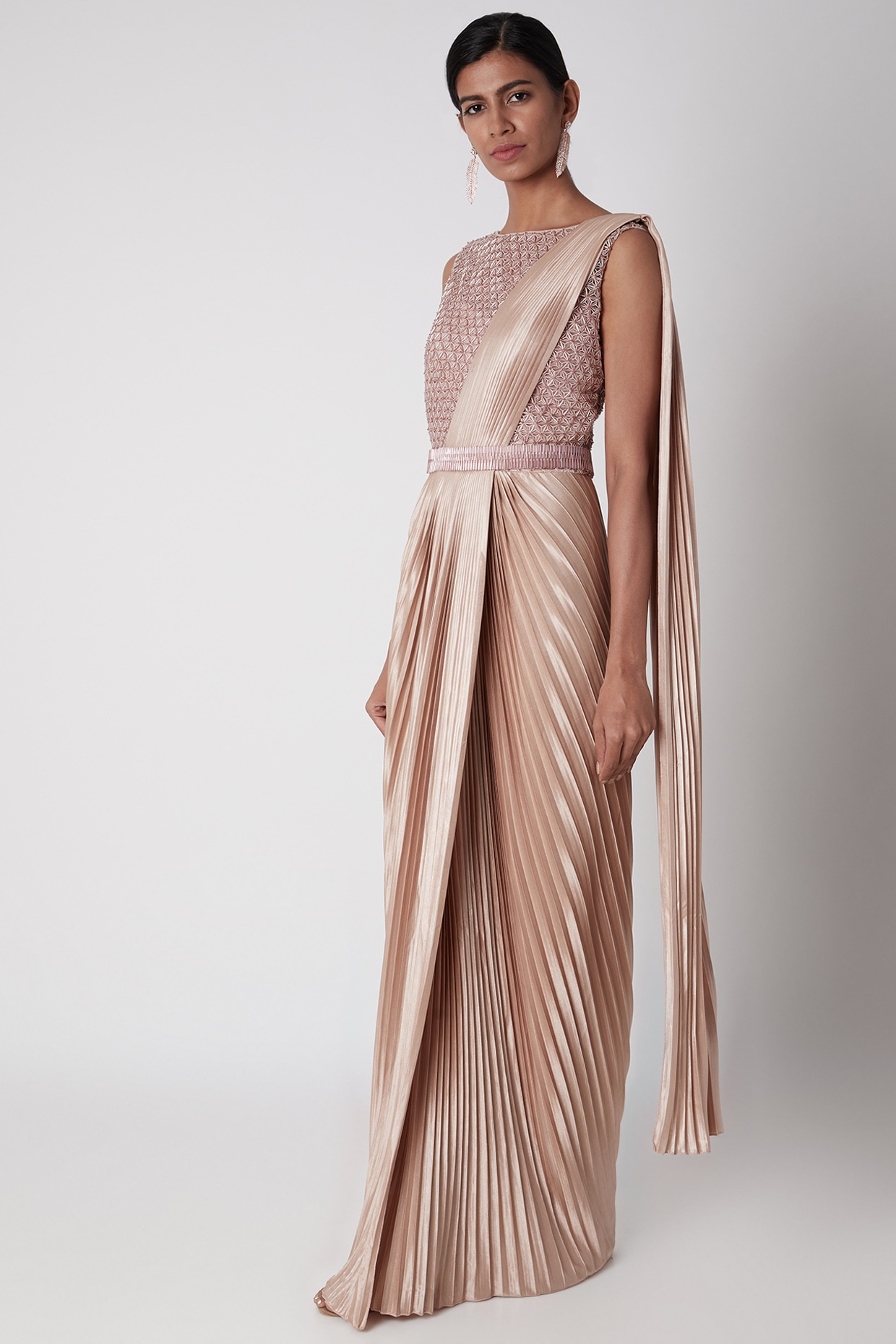 A crushed golden saree with a beautiful blouse and a ravishing belt is an exclusive outfit. This high neck sleeveless blouse having some intricate designs and a simple look can be a perfect pick for those who do not like to wear heavily embellished attires or something very blinking then you can definitely choose this beautiful saree. Wearing this saree on any pre-wedding function or on any special occasion will make you glamour the evening. 
A Stunning Net Saree:
This dusty peach net saree with a heavy front pallu that is detailed with white diamonds is such a stunning outfit. The blouse is also signifying a beautiful neckline that is detailed with the same white diamond as on the saree. The short sleeve with a thin diamond lace is making it a complete modern outfit. Pairing some beautiful accessories such as rings, earrings and a beautiful high heel is a good match with this glamorous saree. A simple hairstyle and smoky eyes looks very pretty with this attire. 
The Feather Cut Saree:
This stunning white saree having a feather pallu and a glamorous lace is making the outfit a worth wearing and choosing one for any special occasion. Slay your look with this amazing white saree and be the limelight of the party. Wearing it in an evening party is the best option. A sleeveless blouse and bold makeup with a pair of earrings is enough for this attire. A high heel paired with this saree is the great choice. 
The Brown Saree with a Designer Blouse:
This plain brown saree paired with a heavy and designer net blouse that has a feather cut sleeve is just too hot to handle. The most attractive part of this outfit is its heavy designer blouse, the embroidery work done on this blouse with flowers and leaves and the simple net neckline is making it look very gorgeous. Prefer for a simple hairdo and a light makeup with this outfit for a perfect look. This tremendous outfit will give you a trendy and classy look. It's pretty common now a days  that people are taking a wholesale dress material and then stitch their salwar suits instead of sarees, And sarees are now getting replaced by salwar suits to were in wedding and other special occasion.
Shiny Pink Saree:
Such a stunning and classy saree that is a perfect pick for wedding reception. It will give a shiny and glowing appeal to the wearer. The net sleeves and a beautiful neckline is one of the most attractive parts of this outfit. A beautiful kundan necklace with a matching earring and a simple hairstyle is enough to get a drastic look. It has a simple border that gives an immensely different look to the outfit.  
Something Simple yet Adoring: This lightweight mint green net saree paired with a dark blue blouse is just too awesome. A thin golden and blue border is matching perfectly with this mint green saree. A sleek bun and a clean makeup will give you an adoring look. Pairing some traditional accessories such as a beautiful ring, a pair of bold earrings, some bangles and a beautiful pair of shoes will complete your look. Wearing this saree on any festival or special occasion is just a great pick.
At Sm creation we have a wide range of sarees to choose from don't forget to check our sarees section out.