Salwar suit is a stylish yet still comfortable attire to wear for women of all ages and body shapes. Made from a wide selection of fabrics you will be able to find them in cotton, silk, georgette, satin, and many more options. 
The trick is to find a material that is best for wearing fro extended amounts of time, so next time you have an all-day function to attend, you will be left feeling cool and calmed even in the hot summers.
Patiala Suits
Multi-color is the strength of these garments as they creatively combine a handful of colors and coordinates them in such a way that it does not become a disaster on the clothing. 
With so many colors, the only other colors that can be used for decoration is gold and silver, this is why they are used in the form of beads, sequins, and embroidered threads to become an attractive sight on all Patiala suits. Another notable feature is that they have a baggy "dhoti" style pants that bear pleats and are customarily worn by women in the Punjab region, they offer maximum comfort.
Anarkali Suits
A favorite among all women countrywide is the Anarkali style that is an elegant wear for women. It offers an elegant look that cannot be ignored due to the extraordinary decorative features that are seen on the skirt portion.
From afar it appears like a choli and skirt that has been sewn together to make a one-piece garment that makes every body type look beautiful and long-lasting this is true since they are mostly made from valuable silk threads produced within India.
Palazzo Suits
When palazzo pants first arrived there was a high demand for these western bottom wear items and they were worn with t-shirts and kurtis due to comfy sewn patterns. Today they have been introduced into the salwar suit industry, much to the appreciation of all women. 
The tunic is made from a cotton fabric just like the palazzo, making them ideal for the outdoors and it is definitely an all-day and all-night option that many women will buy.
Straight Cut Suits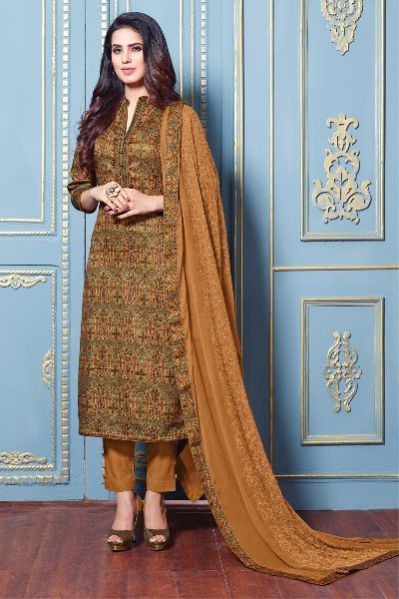 One of the simplest styles also happens to be one of the most widely worn types of Salwar suit throughout the country, this said it is one that suits all purposes for wearing it and they are suitable to wear throughout the day because they are made from breathable cotton material that allows for the most comfortable experience and still being fashionable for the whole time.
 They are made to form a straight design that lacks much detailing making them also very affordable to the public.
Pakistani suits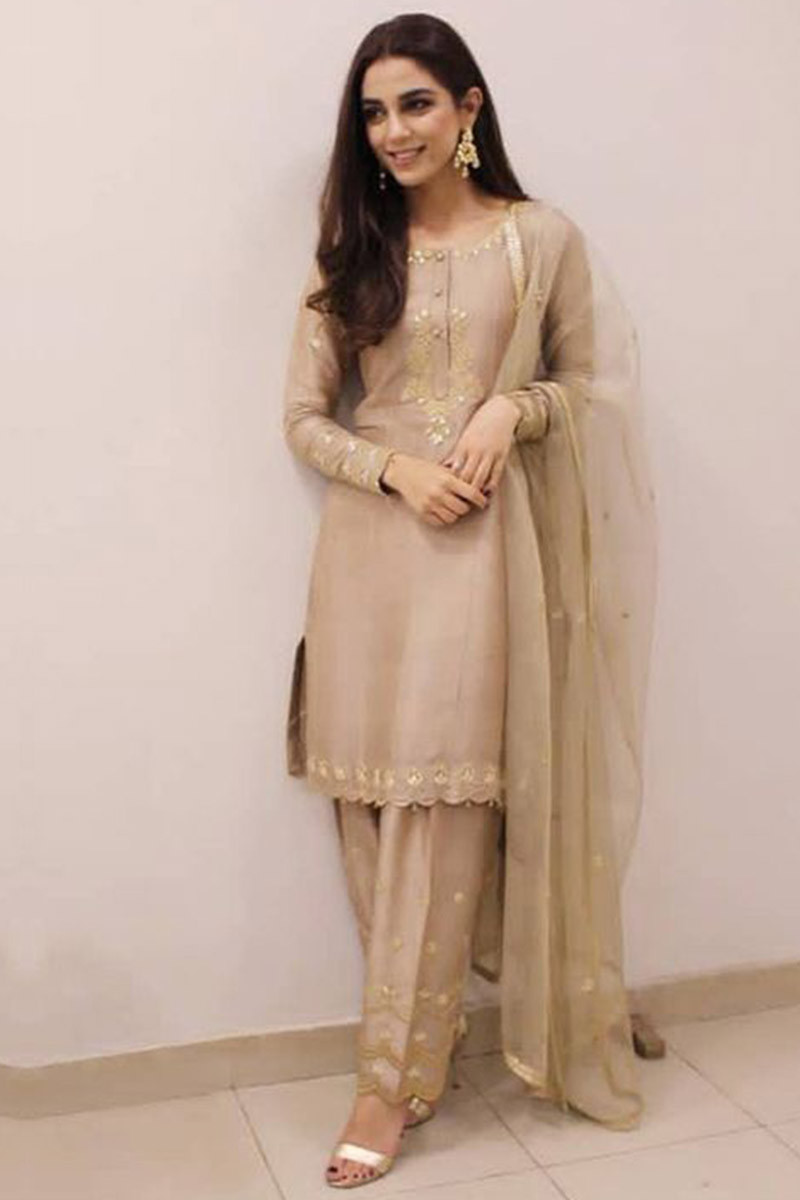 If you are looking for a garment that features the most types od decoration designs you can find it in the Pakistani suits as they are known to be heavily decorated to suit the fashion requirements of auspicious occasions. 
Everything from embroidery, stonework, beadwork, to sequins, and applique and lacework can be seen on the tunic of these outfits. Another advantage is that the pants also have a matching designer look towards the bottom of the pants. This makes it an all-rounded attraction for stylish women.
Jacket Style Suits
A modern style suit such as this one can be used to make a fashion statement and is still making waves around the country. The addition of a jacket can enhance the look greatly which is why this salwar suit is so in demand and popular these days. 
If wearing a jacket as an extra jacket seems too hot, you can turn the tunic into a jacket itself and wear it like this. Also, the jacket acts as a great way to decorate the outfit without putting too much effort into it.
Flared Style Suits
Flares are an easy way to glamorize an outfit to cover up any excess curves and still look exceptional for a wedding or a party. This makes for a one-off garment that women will want to keep on hand for any occasion. Flares around the waist make it spread all along the length giving it a princess-like appearance. Wear it with slim-fitting churidar or narrow pants to get the exact look you want to catch all the attention when you step into the room. if you these salwar kameez then you can buy Salwar Kameez Wholesale online at cheap price.
Cotton Salwar Suits
When talking about wearing an outfit from the morning to evening, there is one that stands out from the rest of them. This is cotton salwar suits that are made from breathable and affordable cotton materials that have many advantages over all the other fabrics currently been used to make these outfits. 
They act best when bought in light and neutral colours that are closer to their natural tone, they require little maintenance and are dry fast without forming too many creases, hence, not needing any ironing and are best for an emergency outfit.
Frock Style Salwar Suits
These are slightly different from all other salwar suits because the tunic is much shorter than the traditional one that is long or medium length. Another difference is that the top appears to be in a frock style this may include some frills or pleats in the fabric of the tunic. 
They are short and show off more of the pants, this is why the bottoms have to look presentable as well. Choosing a good color is important and even a printed material is a great idea that requires little design.
Netting Salwar Suits Netting has long been a material that designers have craftily used in their creations, in this specific style the tunic is fully made from a delicate netting material using a lining as well, the net feature improves the look of a regular salwar suit by so much.
 Netting can be embroidered on and so you are likely to see impressive patterns and images sewn into the netting sleeves and on the body of the fabric as well.