Having a history back to 3000 BC, the saree is the most loved and preferred outfit among women in India. Not only for traditional functions but also for evening parties and get-togethers, most women love to wear a saree and have a whole saree catalog for occasions. 
Saree is a classy, elegant, sophisticated, and most important comfortable outfit for generations and generations of women. Even the young generation of women is falling in love with the concept of sarees and experimenting with the saree catalog. 
With the changing dynamics of fashion, the concepts around it are also changing. The old fashion styles from Bollywood are again coming back into the light with a few tweaks. 
And on the brighter side, the saree has always been in fashion. Be it for making a style statement or maybe just for the sake of solace in the pressurized, ever-changing world of fashion. Saree never let anyone down who believed in for fashion or non-fashion; providing comfort in all situations is what this is all has stood up on for ages! 
Several experiments happened with wearing and styling the sarees on the ramp. Indian artists- stylists took saree on international ramps and made the hundreds of decades worth of history a little more proud. 
A saree is just a piece of unstitched-uncut, 6 yards a long piece of cloth which by wrapping around the body in various ways crates various beautiful combinations to exist! But originally saree is worn in three-piece of garments. 
So without further ado, let's get into styling sarees in bold ways! 
The first and far most important thing is, pairing the saree with any accessory would make it go bold! For example, pairing a saree with a belt. The belt adds a modern vibe to the traditional wear- Saree; and changes the whole traditional look to a little Indo-Western look. 
There are types of belts that you can add to achieve the perfect look. With pure chiffon sarees, this look will bloom differently.
The Bold-Buckle look- 
If you are thinking of going monochromatic then add the same colored belt with it and throw the metallic bold buckled belt with it! That would not disturb the monochromatic vibes and still could create a bold look for your saree. 
Statement Belt- 
Another way of achieving the bold look with a belt is adding a statement belt to the whole saree vibes. You might have a broad belt in your closet that you don't use anymore, and its the time to take out that belt from a cupboard. And pair it with a multicolor saree and you will be turning heads. 
Gold Belt- 
From Bollywood stars to fashionistas we have been seeing this look going pretty viral. You can pair the gold belt with a simple saree and weigh up the look. And it goes well on one piece also to break the monochrome sometimes if you don't want! So investing in a good gold belt is a good idea! 
Corset Belt- 
To complete the bold look with a desi saree adding a corset is an amazing idea. Corset will not only make the look bold but also will help you to define the clear waste line and shape up the body well in no time!
Having a designed corset is also not a bad idea but a plain corset belt will go on multiple saree options! With pure chiffon saree wholesaler you can have a few colors in plain pure chiffon sarees and make your bold look with different colors.
Saree with Statement Necklace 
A statement necklace would only glam up the saree look but frankly, any look with a kurta or shirt with a statement necklace would go surprisingly valiant.
It is an ancient style when a heavy necklace is worn in the typical traditional outfit. The queens, ages ago in India, used to wear heavy garments and heavy jewelry. Given the fact that they were kings and queens, we can't carry that to any function unless it's your wedding!
But a statement necklace with a simple saree would take to a bold saree look! No heavy makeup or heavy saree or anything just pairing the simple saree look with the statement necklace would do the trick!
This could involve all those oxidized necklaces that would finally get a chance to be worn in functions to take away the attention with bold and beautiful grace!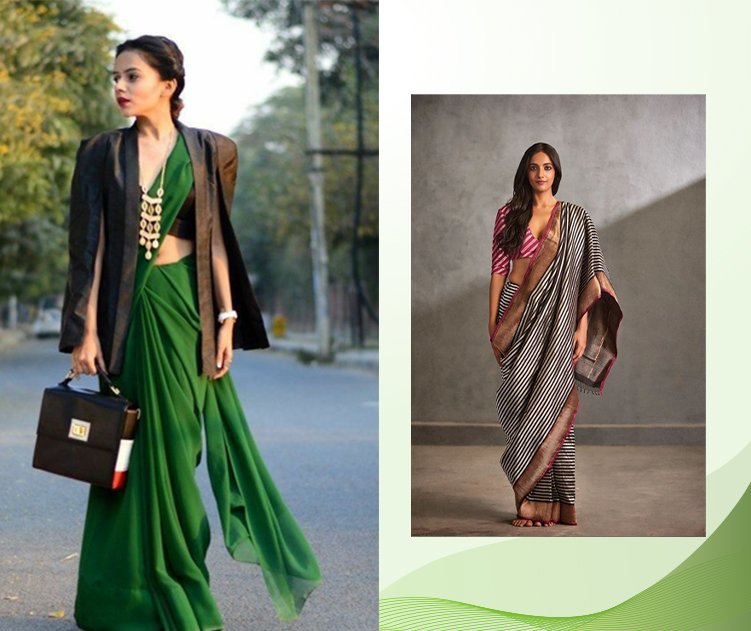 Saree with Shirt/ Crop Top/ Balloon Sleeves Blouse- 
Traditional, embroidered blouses go well with sarees, but if you want to make your outfit stand out more, change the bulky tops for a less formal option. Your saree can instantly gain a stylish, western twist by adding a sleeve. You can stand out by wearing sleeves that are too long. You'll be astounded by how stylish it looks if you choose sleeves with ruffles or balloons.
On the same note, instead of a saree with a traditional blouse, wear a saree with a white shirt. It looks very beautiful in reality than in imagination. Or according to your saree, you can pick and choose the color of the shirt to be paired with the saree. 
Adding a statement necklace here or tying a knot in the front would make the bold look of the saree and do the trick! 
Likewise, a saree with a crop top or a saree with Jacket would make an amazing way in a bold look parade! Pairing it with a couple of oxidized pieces of jewelry would give a perfect bohemian look and not only Instagram but almost all of the fashion industry seems to be in love with the bohemian style. 
Saree with Trousers/ Palazzos- 
Anyone who claimed a saree could only be worn with a petticoat undoubtedly had no idea of other ways to wear it. 
For this style, choose a vibrant saree to wear over a blouse and a pair monotonous pants/ trousers. A striking belt may bring the outfit together and make it scream chic. Same you can do with palazzo and it will look amazing too. 
Wearing a saree with a blazer would give a formal look but up till now you know who has restrictions to wear a saree with a blazer only? You surely can wear the saree with the jacket and the types of it. And you can take any saree from your saree catalog to create this look, and it will work! 
For example, you can wear a saree with a cape jacket, suitable cardigan, or Hakuba jacket. Or maybe you can even pair a saree with a distorted denim jacket as well! If you have a great plain saree in your wholesale Banarasi saree catalog then you can make this look easily. 
No restrictions at all even if you are trying to get any more creative about it. And mix and match 2-3 styles here and there! As long as it makes you feel confident in it. 
Wearing Saree like Dhoti style and pairing it with Bandana- 
This gotta be so far my favorite way of wearing a saree boldly! Making sure that you have the liberty to play with all the available color palettes. And go abstract with the combinations of blouse and saree and bandana. 
Let us know which is your favorite look so far. And which combination you would wear to the next party where you decide to be bold! 
Because, hey! You are bold and beautiful- inside out! You should definately check out other blogs as well, that will help you know more! 
Check out the Saree catalog with prices on the website of SM Creation