There is a color and a type of clothing that blends well for every occasion. The best part about women's clothing, in particular, is the variety of styles, colors, and choices available on the market. It has long been known that Indianwear is the one type of clothing that blends and pairs perfectly with any and all kinds of occasions. In this category, Designer Kurtis have long been known and praised for the style and overall effect that they bring to a woman's wardrobe. These simple, yet elegant, pieces of clothing have been the leading style of Indian men and women for years. Here's a quick guide to the best colors to add to your kurti design collection.
Designer Kurtis: A Must Have
Kurtis are one of the most simple and elegant types of clothing that one can wear. Made from a variety of materials and available in thousands of different styles and colors, these are the go-to outfit for most women. Kurtis are known to blend with any occasion and any time of the day. For the comfort they provide to the wearer and the style they represent, these pieces of clothing have been preferred.
Designer kurtis are a must-have. These kurtis, which can be bought easily through wholesale kurtis online websites, are available either as pre-stitched garments or as dress materials. Some of the reasons why these are a must-have item in every woman's wardrobe:
They are comfortable to wear and available in a variety of colors and styles.

Wholesale kurtis online are affordable and everyday wear.

Kurtis go with every occasion and event. Designer kurtis are differently made to fit and suit the requirement of the event or the time it is worn.

With the right color and the right styling per one's body, these kurtis look flawless and are instant confidence boosters for the wearer.

Designer kurtis are made such that they can be accessorized with anything to make a complete outfit. 
Universal Designer Kurtis Color Guide
There are so many colors that one can choose from for their designer kurti. Through proper mixing and matching, the ideal type of leggings that go with kurtis, the number of combinations is infinite. Kurti designs offer a variety of colors and variations, but not all colors suit every body type and skin tone. For this reason, we have compiled an ideal guide on the types of colors that are universal for Indians.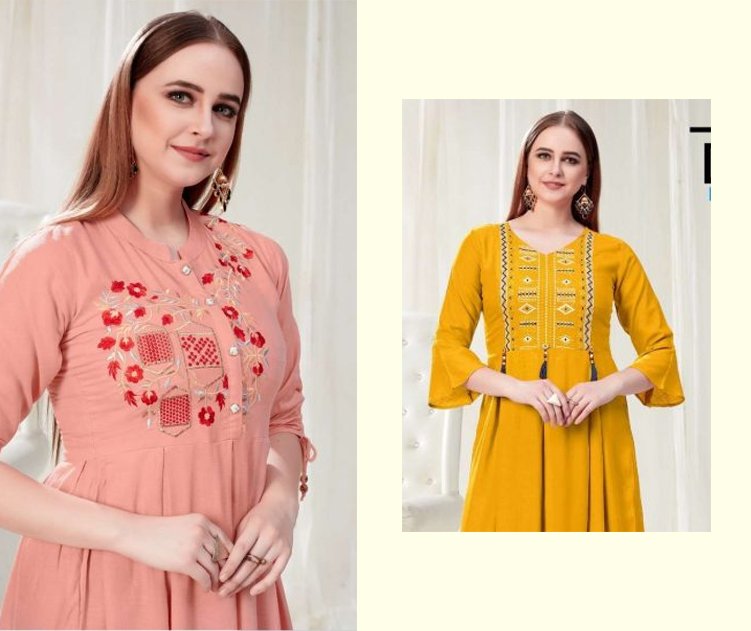 Dark Tones Like Navy Blue
The Indian skin tone calls for something that can contrast it properly. Navy blue and other similar tones belonging to this category are a perfect match for Indians. This color, along with all its hues, is known to not only complement the skin tone but also make one stand out. 
Some of the best designer kurtis come in dark tones with beautiful gold or silver embroidery work on them. These kurtis which can range from long to short ones are ideal for everyday wear. Made mostly from cotton, wholesale kurtis online is the best destination for women to fill their wardrobe with the Indian aesthetic.
White
For Indians, there is no replacement for the color white in one's wardrobe. White has long been the go-to color for Indians during the hot summers. All skin tones, not just those from India, complement white, which is known as the color of purity. Kurtis that are white are light and an ideal choice of color for every type of occasion. 
White is usually the base color for designer kurtis. In fact, there are entire kurti designs catalog that are segregated under the category of white. White kurtis with different types of work, including mirror work, are a favorite among Indian women who want to have a stylish and attractive wardrobe. 
Plum, Peach, and Pink Hues
The Indian skin tone was made to be garnished with shades of pink. Peach and plum and other light hue pastels in this share are the go-to choices for many women. These soft pastel shades are perfect for any weather (especially the summers) and are either aligning or contrasting to the Indian skin. 
The best part about this color is the subtlety in it. As a base color, it is simple and radiates elegance like no other color that is available in the market. With the right type of accessory, these designer kurtis can be show-stoppers and a stunning combination for any occasion.
Where to Find Wholesale Kurtis Online
Wholesale kurtis online is a huge market for women looking to build up or upgrade their wardrobes. These websites host a kurti design catalog with a range of kurtis, dress materials, sarees, and more. The best part about a wholesale kurtis website includes the quality, variety, and affordability of all the items enlisted.
For designer kurtis which usually cost a lot in terms of purchase from a retail store, wholesale kurtis online is the ideal option. The sites have a variety of choice with specialized styling partners and recommendations according to the inputs and the purchasing pattern of customers.
Out of all the websites that sell designer kurtis, SM Creation is an ideal choice. A website that is not only verified by thousands of customers in India and abroad, but the site also has unbeatable credibility to its name. For those who are looking for an affordable yet diverse range of range designer kurtis, SM Creation is the ideal choice.
In Conclusion,
Designer kurtis are stunning and comfortable. Compared to normal kurtis, these are different in terms of the work and the make of the kurti. These kurtis are appropriate for any occasion, but they are most commonly seen at special events. For women who wish to build a wardrobe of ethnic wear, having 2-3 designer kurti pieces is a must.
As far as color is concerned, no one color fits all. However, there is a range of colors that are suitable for most women with Indian skin tones. These include white, black, navy blue, olive green, pink hues, pastels, and more. The best way to find out if a color matches the skin tone is to check the amount of contrast and the overall feel of the clothing. We at SM Creation recommend building one's ethnic wear wardrobe from wholesale kurtis online stores that offer a range of options to customers.