The west is one of the leading reasons for the change in India's fashion and apparel industry. Since the British era, their fashion choices have influenced many to change how they perceive apparel. 
Fun fact, before the British, the traditional Indian saree was once without any blouse or ornamental elements. But, in recent years, an Indo-fusion culture has developed for ethnic wear. This led to an increase in the demand for wholesale readymade dress materials.
Wholesale Readymade Dress Material & Western Wear
The fundamentals of dress materials are that they come in varieties. These materials are remade into any style or fashion that the wearer wishes. Wholesale readymade dress materials are preferred by women who want to build the ideal ethnic wear wardrobe according to their skin type and body shape.
The concept behind fusion culture is the mixing and permutation-combination of two or more cultures to make something unique. In the case of fusion wear, the most popular type of match made is between Indian wear and Western wear. 
Recently, in terms of wholesale readymade dress material, the most sold items are prints inspired by Indo-fusion culture. The trend is so popular that it is estimated to be the pivotal point for changing Indian ethnic wear. 
What is Info-Fusion a Trend?
Fashion has always been a fun element in people's lives for centuries. It is common for a trend to overtake the world and inspire millions to dress in a particular fashion. There have been different styles, fashion statements, and peculiar trends that have surfaced over the years. 
Indo-fusion wear, in particular, has always been in fashion. More elements that are unique to this type of fashion have only added to this ever-growing trend. With Indo-fusion wear so popular, nearly everyone dresses in it unconsciously.
With the rise in popularity of wholesale readymade dress materials, mixing ethnic wear garments with a pair of jeans is everyday fashion. Some other examples of the best Indo-fusion combination include wearing crop tops with lehengas, adding a dupatta to a western fit, or merging Indian wear with western shoes, which is popular.
Types of Popular Indo-Fusion Clothing
The traditional kurti has seen some of the grandest changes in style and make. What we know as a kurti today might be a version of western influence that has impacted the style. Everything from the straps to the sleeves, and even the work of a kurti design, is a result of western influence.
Kurtis & Jeans
As most women would say, kurtis and jeans match perfectly. Any kurti, when paired with a stylish pair of jeans looks stunning. Today, different guides are available for the ideal designer kurti that fits perfectly with differently-styled jeans. From straight jeans to skinny jeans, high-waist jeans, and many more – different kurti styles are available.
Kurtis and jeans are ideal for any and all occasions. Be it office, college, university, or just a casual day of outing, this pair is comfortable and stylish.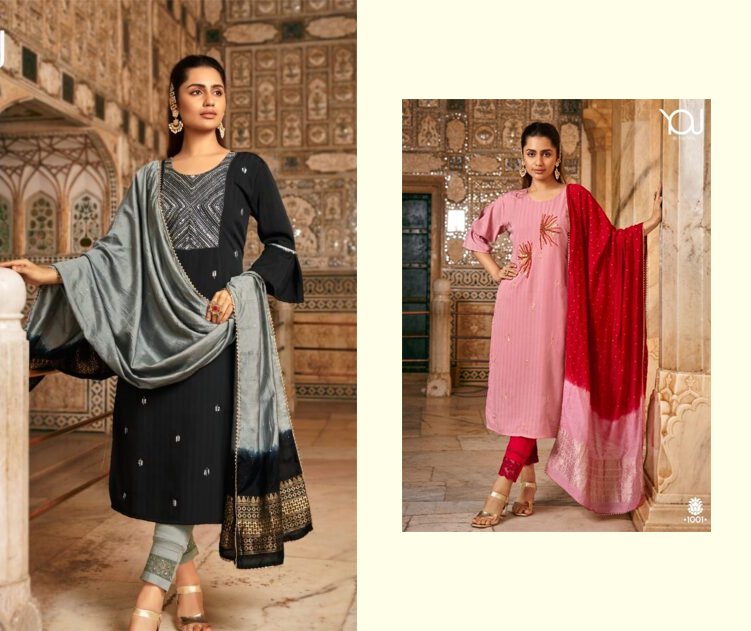 Crop Tops & Ethnic Wear
Ethnic wear is not limited to the different types of kurtis that are available in the whole wholesale readymade dress materials that are available online. There is a combination of different ethnic wear that all have a pairing of western wear to it. 
Crop tops are a popular pairing that goes well with lehengas and sarees. Today, more women opt for a designer crop top as compared to a customized blouse to pair with their ethnic look. Together with a dupatta or a choli, this makes the ideal ethnic wear for women for special occasions. 
In the case of everyday wear, the saree and crop top are quite popular. Designer saree catalogs and normal sarees are comfortable, easy to wear, and ideal for formal situations like the workplace.
Sports Shoes & Indian Wear
This trend in fashion, where people choose comfort over anything else, is rising drastically and becoming popular. From brides in their customized readymade wedding lehengas to office-goers, pairing sports shoes with ethnic wear is an Indo-fusion everyone has been waiting for.
While some wholesale dress material online is perfect for any type and color of sports shoes, there are customization options too. Many would think that a sandal or jutti is the ideal pair, but sports shoes have proven to be an equal match. This Indian fusion with Western style is a trend that looks like it's here to stay for a long time. 
Will Western Wear Overtake Indian Fashion Completely?
Indian wear today is highly influenced by all the trends and changes in the fashion market of the west. Though there are many fusions and mixes that influencers and celebrities are making popular among the youth, it is safe to say that ethnic wear will continue to retain its individuality.
Though many changes are made to traditional ethnic wear, there is nothing that can replace authenticity. Indian culture has different types of textures, patterns, and styles that are native to the subcontinent. Replacing these core principles is nearly impossible. The prediction is that though different fusion styles exist today, nothing can come quite close to overthrowing Indian ethnic wear.
In Conclusion,
When it comes to having an ethnic wear wardrobe, the best is to go with wholesale readymade dress material. This not only gives wearers a range of choices to build their ideal type of clothing but is also pocket-friendly. For styling proposes, going with a fusion look is the best way forward. The merge of Indian and western fashion styles is a type of comfort wear that many find to be their everyday go-to attire.
At SM Creation, we offer a range of wholesale dress material online. We offer a wide range of styles and a collection of designer kurti catalogs and saree patterns that can be styled in any way. We recommend checking out the different types of dress materials online available that come in a variety of patterns. There are many cultures around the world that have inspired these patterns, not just the Indian style.